The Doors Experience
Austria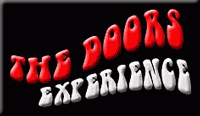 We started playing The Doors programme on June 1st 2001, the year of Jim Morrison's 30th anniversary of dying day.
When we started the The Doors Experience we knew each other well and for more than 10 years. Some of us have been played together some 15 or more years.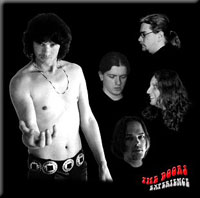 After a while our guitarist had to quit. He is a veterinary doctor and just built up his own clinic, so he could not play that much gigs. That's why René joined us in January 2002. In December 2002 our initial bass player also had to quit out because of professional reasons. He was in the Internet business and had to travel a lot, so it was hard for him to play the amount of gigs we have had at that moment. So, Hermann Draxler joined us on bass.
Jason "Jim" Boiler, vocals
Anyway, we started playing an entire The Doors programme because of it that we all loved The Doors and knew their music extremely well. Jason "Jim" Boiler, who has always been playing bass guitar bearded so much resemblance to Jim Morrison in his voice, attitude and look, that we finally dedicated ourselves to doing it. It grew naturally and we all loved the idea and, what's the most important, it worked! The audience loved it, which is why we do our third tour this year and we still attract more and more people.

The Doors Experience are:
Jason "Jim" Boiler - vocals
Christoph Zauchinger - drums
Klaus Bergmaier - organ, rhodes & backing vocals
René Galik - guitar
Hermann Draxler - bass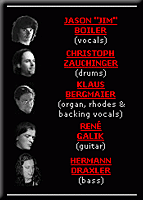 Contact:
e-mail: Klaus.Bergmaier@blackbox.net
---
The Doors Experience are going to present their music in
Rock Club Pauk in Zagreb on 23.05.2003.
Programme is called: 38th Anniversary of The Doors
In Memoriam

---